We are Let's Dance!, the student dancing association in Maastricht! We offer courses in Latin & Standard, Salsa & Bachata and Hip Hop. Besides these classes we also offer an international, open and enthusiastic social environment, mostly consisting of students. We organize workshops, non-dance related activities, dinners, and parties, to give you the opportunity to socialize with fellow passionate dancers and meet new people and friends.
On this page you can get to know our association a bit better. We will introduce give some information about our association, as well as introduce our board for this year as well as our trust persons.
The Board
Hereby we present the 23rd board of M.S.D.V. Let's Dance! Our diverse board, comprised of 6 dancers, are the ones working to make to run this beautiful association. We organize classes, workshops, parties and many other fun activities!
Before we invite you to dance with us, let usfirst introduce ourselves and the roles that each of us play within the association.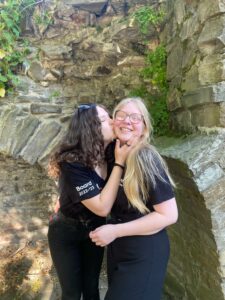 President – Charlotte Dörenberg 
Hii all! My name is Lotte, and I am this year's president! I am half German and half Dutch, and a proud Limburger! 🙂 I did a Bachelor's in Neuroscience at the Maastricht Science Program, and am currently finishing my two Masters, one in Neuropsychology and the other one in Healthcare Policy, Innovation, and Management. I'm a true wintersport girl, since my main sports have always been Skiing and Figure skating, but three years ago I started Ballroom and Latin as well and have loved it ever since!
As your President, I will be "in charge" of this association, along with my lovely board! 😉 Additionally, I will be leading the Merchandise Committee, so if you want one of our beautiful hoodies, t-shirts, or other knick knacks, never hesitate to contact me! On top of all these things, I will be the Co-Teamcaptain of our competition team, and would love some new additions to our amazing team! I will be at most classes and you can find me on Monday's during the practice hours for any and everything that you would like to ask and share.
I am very excited to be on this year's board, and am so happy that I get to share this experience with my new board! <3 
Never forget to sparkle and shine on ánd off the dance floor!
Kisses, Lotte
 Vice-president – Senny Wang
Hey everybody!  My name is Senny (20) and I will be this year's vice president!  I was born and grew up in Germany but my parents are from China. Right now, I'm in my second year studying Psychology.
I started dancing Hip Hop during middle school already but it was on & off so I can't tell how long I've been dancing exactly. I mostly enjoy everything related commercial style, especially jazz funk. This year, I want to work on my footwork and get into house, afro, but also contemporary etc. I'm super open to new styles and would like to improve more! And apart from dance classes, I train with my friends.
As your vice president, I will be helping all the other board members so I'm very happy that my tasks are very diverse! I'm mostly in charge of the social media too, so you'll see me running around filming everything and replying to your messages. Apart from that I'm running the Marketing committee & showcase/INKOM committee! 
Really looking forward to this new academic year and I'm very excited for all our upcoming activities – we have lots of ideas! 
See you around! 🙂
Senny <3
Secretary –  Yannis Katsaros 
Hi, I'm Yannis and I will be this year's Secretary. I was born and raised in Rhodes, Greece and I studied Psychology and Neueoscience in Maastricht.  I started salsa lessons through Let's dance! and immediately fell in love with it! Next to that, I like the outdoors and hiking in nice sceneries and swimming. You'll find me chilling in the parks when the sun is out 🙂

As your Secretary, I will be responsible for any administrative matters, as well as handling incoming e-mails of the association. If you have any questions, don't hesitate to ask me if you see me. Dance awayyy
Treasurer – Justus Rutten
Hello everyone! My name is Justus, and I will be this year's treasurer. I come from Velp, which is a town near Arnhem. I just finished my Bachelor's in Data Science, and am now doing my Master's in Data Science. When I was around 14 years old my brother told me "You are going to learn how to dance, it's good to impress the ladies", This led to me dancing for the next 4 years, but didn't lead to any impressed ladies. I did however find a great passion for dancing, and after taking a 2 year hiatus when I started university I picked it up again with Let's Dance!.
Being the Treasurer I will make sure everyone has paid their dues, and that we have paid all of our lovely teachers. Anywhere the money goes I will keep an eye on it, so if you want to host an event I will be a (small) part of that planning. Luckily I do enjoy a good party so don't be afraid to come with plans.
I hope to see many people come dance on the floor, and for many to come with great ideas for parties, workshops and other fun events!
Have fun dancing the night away,  Justus
Head of External Relations – Ziya Sterken
Hola a todos! My name's Ziya, and I am going to be the first head of external relations of Let's Dance! Born and raised next to the seashore in the upper North of the Netherlands, I came down to the most southern point of the country for my study in Fiscal Economics. I started my dance journey when I was 17, when I learned some salsa fundamentals at a grimey pub and continued with that for about a year. Lotte pulled me into Let's Dance! after a 1.5 years of other stuff (including a board position in a study association), and have not regretted my impulsive decision at all. Especially Hiphop dancing clicks with me, so I'm thrilled to keep on working on that (Hiphop demo team?!).
As your head of external affairs, I'll be responsible for staying in touch with sister associations, (soon-to-be) members, companies and more. If you would like to get to know more about Let's Dance! in general, work together with us for both projects and potentially even long-term, or know somebody that might be interested partnering up, let me know and let's grab a coffee to talk it over ☕  
Thrilled to be working together with this dreamteam and  to see what's waiting for us! 
Trust persons
We would also like to introduce you to our two amazing trust persons: Alex and Lianne. Our trust persons are there for those who might have experienced something uncomfortable that they want to talk about, or those who are struggling and need a listening ear. They will listen and support you and help come up with solutions to improve your situation. Our trust persons have followed workshops addressing topics such as: bullying, intimidation, sexual harassment, aggression, and discrimination. These conversations will always be 100% confidential and are meant to be a safe space for our members. They are of course also open to just having a chat or any suggestions that you might have to improve our beautiful association even further. Feel free to contact them at any time through email or text or just come talk to them during classes or activities. 
Trust person- Lianne van den Broek
My name is Lianne van den Broek and I am the trust person of the M.S.D.V. Let's Dance!. I feel that it is important for all our members to feels safe and comfortable in and around this association. Therefore, if you encounter any issues – be it personal issues, inappropriate (sexual) behaviour, disagreements with the instructors or the board – know that there is a person you can talk to confidentially. 
If you have questions or feel like you need to talk to someone, do not hesitate to approach me during the classes or via email: lianne.vdbroek@hotmail.com.