Let's Dance
Welcome to the website of M.S.D.V. Let's Dance!, the student dancing association of Maastricht. We offer dance classes in Salsa & Bachata, Latin & Standard, and Hip Hop. Hope to see you soon in class!!
Check out our class schedule here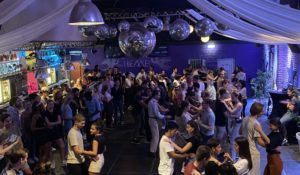 Salsa & Bachata
Wednesday
@ D'n Hiemel
Sint Bernardusstraat 20A
Latin & Standard
Thursday
@ Bernaards Dans-partycentrum
Brusselsestraat 97
Hip Hop
Friday
@ UM Sports
P. Debyeplein 15
Join our association!!
Interested in joining our association? We have two moments per year when you can try out our introduction classes for free and, check out all that Lets Dance has to offer.  Sign-up will be available during these introduction periods for new members. This will be at the beginning of the of the year and at the start of the second semester, which starts four weeks after the Christmas break.
For more info about our introduction classes check below,
Contact
If you have any questions, suggestions or anything else feel free to contact us at any time through email or social media. Or you can come talk to us during one of our classes or activities.